Office of the President of the Federated States of Micronesia
, Tue, Nov 3, 2020
Click the large video image below for H.E. David W. Panuelo's 34th FSM Independence Day Address. The transcript of the address is below the video.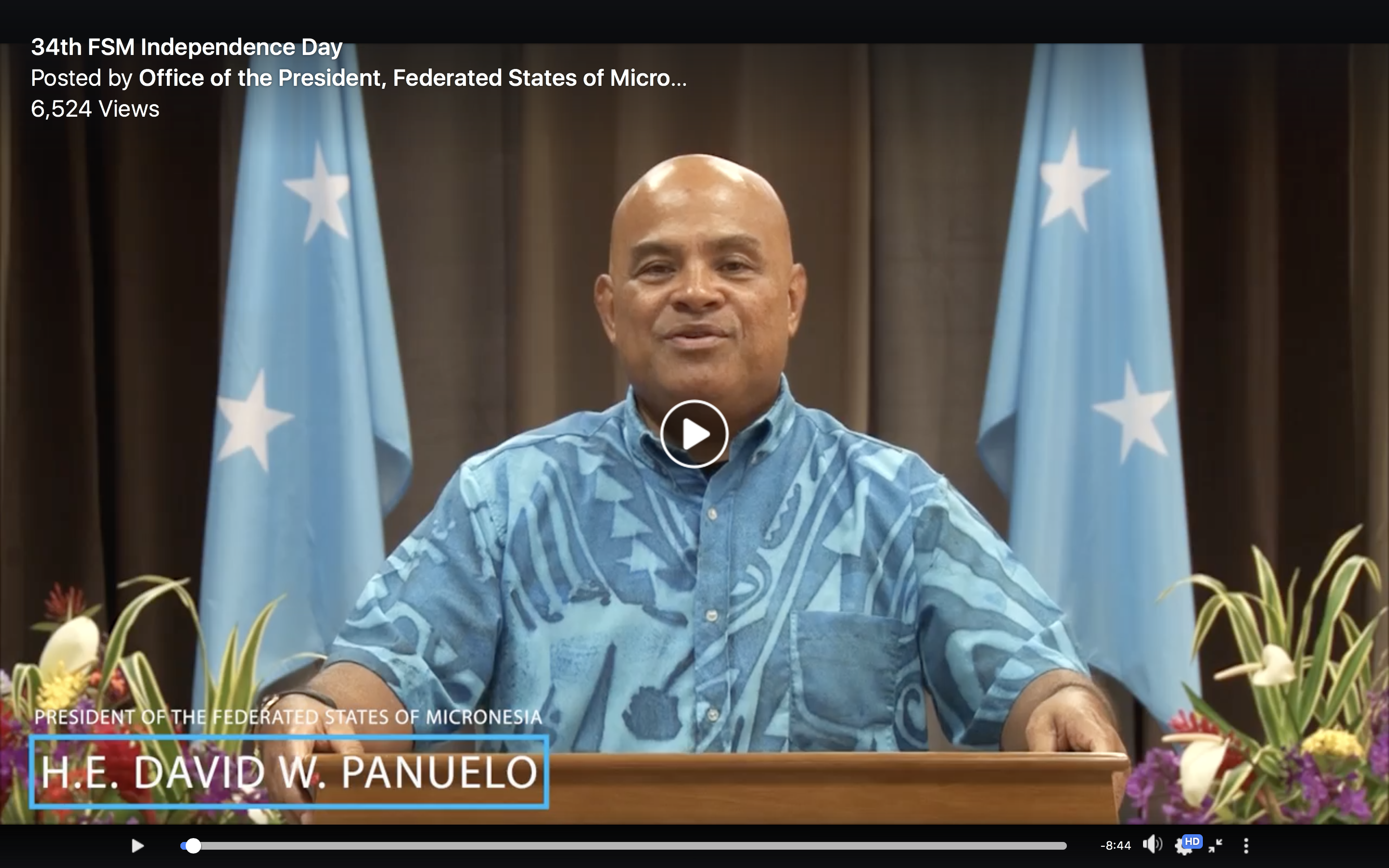 My fellow Micronesians,
Kaselehlie Maingko, Mogethin, Ran annim, and Len wo. Today, November 3rd, 2020, we celebrate our Nation's 34th year of Independence. Through the democratically expressed wishes of the people of our Nation, combined with the cooperation and support of the United States, our Constitutional Government was recognized, and our Compact of Free Association went into effect on November 3rd, 1986.
For 34 years, our canoe has sailed, guided by our four shining stars of Pohnpei, Yap, Chuuk, and Kosrae. Our canoe's destination has always been self-reliance, which can only be achieved by you, and I, and all of us working together like our Founding Fathers did, paddling our canoe as we sing the same song in harmony, in continuing our Nation-building process.
Just as our languages, our cultures, our stories, and our families build part of our communal identity, so too does our nationality. Just as the ocean connects us, so too does our vibrant national spirit. Feel proud to be Pohnpeian, to be Yapese, to be Chuukese, and to be Kosraean; and feel even prouder to know that we are all brothers and sisters, we are all family, because we are all, first and foremost, Micronesians.
My fellow Micronesians,
For our Nation's 34 years of Independence and 41 years of Constitutional Government, the People have been served by nine separate Presidents and 21 Congresses. In an increasingly uncertain World, we have been blessed to have always known and practiced a peaceful transition of power.
Today, our 34th day of Independence, our Micronesian brothers and sisters in Palau, and our American brothers and sisters in the United States, will vote to decide their next Presidents and their next Congresses. The Federated States of Micronesia wishes them both a successful, safe, and orderly election where all citizens are able to have their voice heard through their vote.
For our own forthcoming national election on March 2nd, 2021—four months from now—registration to vote is ongoing. For our citizens living abroad, as of yesterday, November 2nd 2020, you may now formally request an absentee ballot. We don't know how the rapidly evolving COVID-19 Pandemic might potentially impact the health and safety of our citizens abroad. It is every citizen's civic duty to actively participate in our democracy, therefore I ask that all of you living abroad request an absentee ballot as soon as possible to ensure that your voice is heard and that your vote is counted.
My fellow Micronesians,
Many of us have concerns and doubts lingering in our heads. We may ask questions, like: Is our Nation prepared for a worst-case scenario of COVID-19 reaching our shores? Will we ever repatriate our citizens stranded abroad? Will our Nation be financially secure after 2023?
To the first question, our Nation is more prepared now than it has ever been to face a Pandemic. We should be thankful that our Nation is blessed to remain COVID-19 free. We've spent this time building our response and prevention capacity. From the development of procedures and construction of facilities, to the implementation of training and social protection programming, as your President I have demanded an airtight system and I believe we are nearly there. It is my hope that we can begin repatriating some of our stranded citizens as early as possible.
With respect to the question of 2023, the Federated States of Micronesia's Joint Committee on Compact Review & Planning (JCRP) has stated, alongside our American partners, our mutual intent and optimism to complete negotiations on the expiring provisions of the Compact by January, 2021, with subsequent submission to our respective FSM and U.S. Congresses. Meanwhile, our sovereign FSM Trust Fund and our Compact Trust Fund combined, the amount is slightly more than one billion dollars. We are doing everything we can to keep our Nation financially secure beyond 2023 and far into the future.
My fellow Micronesians,
Given the optimistic road ahead in our Nation-building process, there is no good reason why we should fear the future, my dear citizens, but there is every reason why we should face it seriously, neither hiding from ourselves the gravity of the problems before us nor fearing to approach these problems with the unwavering purpose to solve them head-on. Whether it's an existential long-term security threat like Climate Change, or a public health crisis like COVID-19, a better world is not something we ask for: a better world is something we build. Together, through our empathy and love for one another as Micronesians, we shall endure, taking actions today for our Nation's prosperity tomorrow.
I wish you all, each and every one of you, a very Happy 34th FSM Independence Day. God bless you, and God bless the Federated States of Micronesia.
To go to the full piece at Office of the President of the Federated States of Micronesia, click here.